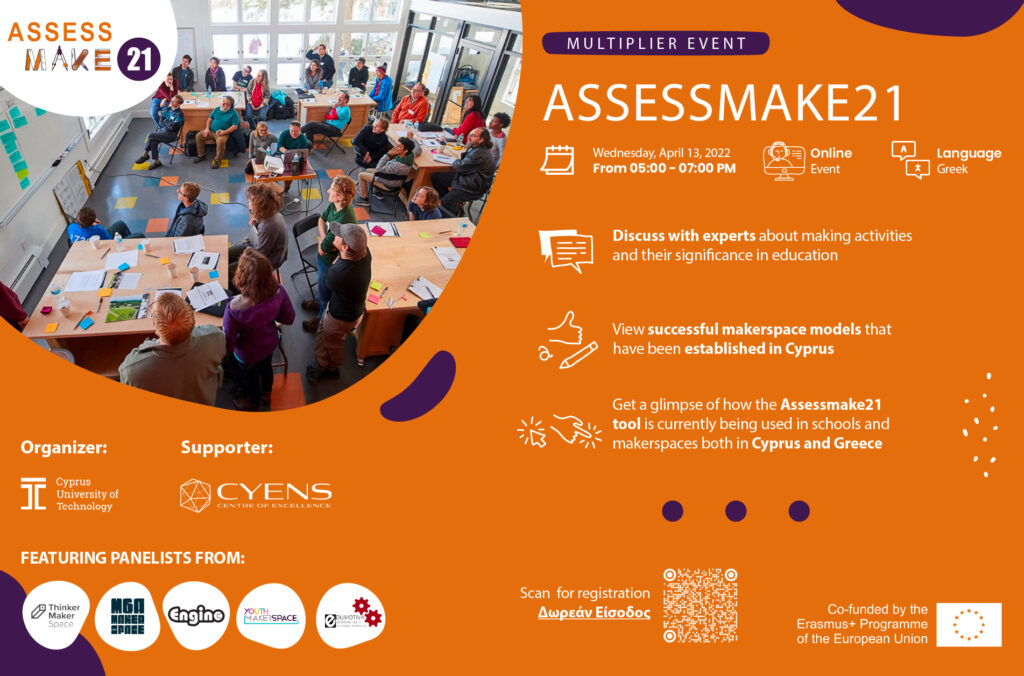 The Erasmus+ multiplier online event in Cyprus for Assessmake21 digital self-assessment tool is coming soon!
Are you an educator or makerspace facilitator?

Are you interested in making?

Would you like to know how to promote self-assessment and help your students develop their 21st century skills while they are working in making activities?
If so, register to our online event on Wednesday, 13/4/2022 at 17:00 (Greek time) and be introduced to Assessmake21 digital self-assessment tool for 21st century skills in makerspace contexts. The tool has been designed and developed by the Assessmake21 consortium and is currently used as part of pilot studies in schools and makerspaces in the four partner countries (Ireland, Sweden, Greece and Cyprus), despite the challenges occurring due to the pandemic.
You will get the chance to:
discuss with experts about making activities and their significance in education
View successful makerspace models that have been established in Cyprus
Get a glimpse of how the Assessmake21 tool is currently being used in schools and makerspaces both in Cyprus and Greece
Language: Greek
Registration is free but mandatory: click here
Event agenda: click here